About Atlantic Recreation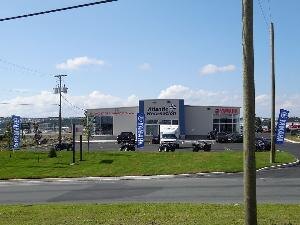 At Atlantic Recreation we are powersports and boating enthusiasts, and we are excited to help you experience the fun and adventure that a quality Yamaha, G3 or SmokerCraft can bring into your life! We are a powersports and marine dealership serving the Mount Pearl area, offering the best in new and pre-owned powersport or boats. Our friendly and knowledgeable sales, financing, service, and parts departments are ready to offer outstanding service at every point, from assisting while you're making your choice to ongoing maintenance and customization. At Atlantic Recreation, we value the opportunity to create a long-term relationship with our customers, and we do that by making sure to exceed your expectations.

Atlantic Recreation was established in 1997 by Dave, Roger, And Paul Morgan. The company's focus was solely on the Yamaha product and to this day it remains the same - "Your Exclusive Yamaha Five Star Dealer".
To achieve five star status a dealer must meet strict criteria from Yamaha Canada to ensure a high level of brand identity and customer satisfaction. In 2014, Atlantic Recreation received the platinum dealer award, this prestigious award places the dealership in the top 10 in Canada out of over 600 dealers.
The Morgan's commitment to Yamaha and their many loyal customers was even more evident in 2008 as they moved the dealership into a brand new 20000 sq ft building at 17 Corey King Drive, Mount Pearl. This location offers our customers everything, from our 6000 sq ft showroom, well stocked parts department, and an all new Service department with the most up to date diagnostic tools.
The staff of Atlantic Recreation is committed to Customer Service with factory training and years of experience.

Roger Morgan
On Oct 13/2014 the recreation industry and Atlantic Recreation lost a very well respected individual, Roger Morgan.
Roger's love for his family, dealership, customers, staff, and Yamaha in general was evident everyday in everything he was involved in. Over 17 years of being involved in the industry he established many relationships with customers, business partners, and even at a corporate level, with staff of Yamaha Motor Canada. He loved to attend Yamaha dealer meetings where he had an opportunity to socialize and share stories with dealers from Newfoundland and Labrador, and other dealers from across the country. Anyone who had an opportunity to meet Roger never forgot him and never will.
He was an outdoor enthusiast to say the least, whether it was racing his Yamaha Vmax 4, or enjoying a night at his favourite camp in the country - anything Outdoors described Roger. If he wasn't at the dealership he was in the country.
His dedication to the dealership was like no other. He would spend endless hours going above and beyond to ensure all customers were happy and satisfied.
Roger took a piece of our hearts with him the day he passed. A genuine, caring, kind person who left us way too soon. The Yama-family he left behind will strive everyday to follow in his footsteps and make him proud. His memory and love of the dealership will last forever.
Roger, you will always be in our hearts. Until we meet again.

Contact Us
Call us at (709) 739-6662 or come by today and experience our superior service and selection! We look forward to serving you!
Atlantic Recreation is conveniently located near the areas of Conception Bay South, St. John's and Paradise.